January 18th, 2018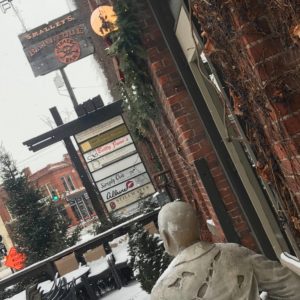 We're not really sure what to say. It's been a weird week around here with our neighbor closing it's doors. It's melancholy. People have been wandering in while waiting for a table talking about how much Smalley's meant to them. We get it.
We must have directed thousands of people to their front door. It became a standing joke. We ate more loaded mac and cheese than anyone should and celebrated milestones over a mojito. One or two people may have shared a kill devil before coming to knitting class.
A yarn shop was probably not the obvious choice to share a wall with a pirate bar, but it worked for 8 years and the pirate statue on the front patio had our back for much of it. Well, more like we had it's back.
Cheers Smalley's Caribbean Barbeque and Pirate Bar. You will be missed.