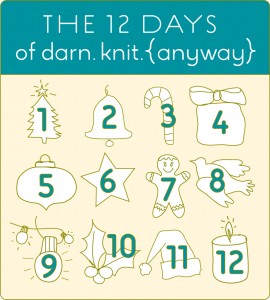 Twas 3 days before Christmas and all through the shop
People were asking for yarn, gift cards and stuff
We'd picked up all of your last minute stitches
And found the perfect yarn for for someone who itches.
We'd eaten Chicago Mix, Strawberries and lots of peppermints
You guys were so generous with your kind thank you gifts.
Everything was great, it was going so swell
It was fine until I heard Carly yell.
I ran to the classroom to check it out
Carly said there was something we had forgotten all about.
Our 12 Days of DKA was not on our list
And now we were 2 days before Christmas Day Bliss
Soooo
Instead of a calm 12 day release
You'll get them all now, all in one piece.
Here we go…get ready to shop
Here they all are, all in one pop.
On the ___ day of DKA my favorite yarn store offered me…
DKA T Shirts for $18 each
DKA Coffee Mugs $12 each (in store only)
DKA Tote Bags free with $50 purchase
MN Mittens and hats $20 each (in store only)
20% off Cable It Up Scarf Kits
20% off Wonderland Yarns
Self Striping Sock Yarn buy one get one 50% off (in store only)
20% off Sweet Georgia Tough Love Sock
20% off Simplinatural by Hikoo
20% off Class Registration (doesn't include sweater camp or building blocks)
20% off Sweet Georgia River Yarn
20% off Juniper Moon Farms Herriot
Next year we promise we'll remember all 12 days
We won't be in such a Christmas Cookie haze!
Happiest of Holidays to all of you!
While supplies last of course, some limitations apply and you can't use any other discounts or coupons.
Tags: 12 days of DKA, Darn Knit Anyway